We do it Right the First Time!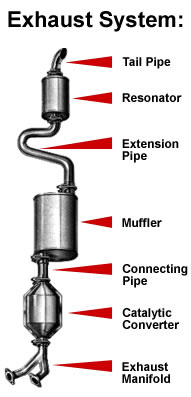 Exhaust systems today are better than ever.
They have to be to provide better:
Fuel efficiency
Pollution and noise control
Safety
However, your muffler, exhaust pipe and catalytic converter are still subject to auto repair, and are vulnerable to corrosion and damage. After all, they're under your car. Call and schedule an appointment for a FREE exhaust system and muffler check.
The Benefits
You save money on gas. Higher operating temperatures and catalytic converters help engines burn fuel more efficiently.
You breathe easier. More of the harmful gases and compounds are burned in the exhaust system and catalytic converter before they are released into the atmosphere. This helps reduce the pollutants that can cause smog.

Come In Today For A Free Exhaust Inspection!