Overview: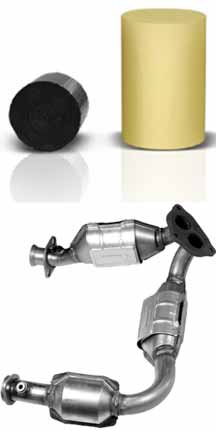 The growing concern for the environment means there is a growing need for quality emission control products. One of our primary suppliers, AP Exhaust Technologies, produces catalysts and catalytic converter systems that can be found in a vast array of engine applications. These include engines powered by a variety of fuels including gasoline, diesel, CNG, LPG and blends.
Everywhere engines are used; AP catalysts and catalytic converter systems are making them energy efficient and environmentally friendly. AP designs and manufactures catalytic converters for automotive, heavy duty, off-road vehicles and industrial applications.
AP constantly strives to go beyond the customer's expectations with regard to quality engineering of all products. Every effort is made to assure total quality throughout the AP engineering, product development, testing, and manufacturing operations. AP has built a reputation for strict adherence to exact production procedures and quality specifications.
AP's manufacturing processes assure that each converter is built to the highest quality level and to the required emission certification. Premium-grade ceramic substrate cores are processed in our plant to OE performance and reliability standards. Upon evaluation of the requirements of each application, AP is able to match the precise catalyst or catalyst system needed. AP's experienced team can design and develop a quality custom product or provide an existing product. Combining the latest technology and proven processes, AP attains results.

OBDII By Design Technology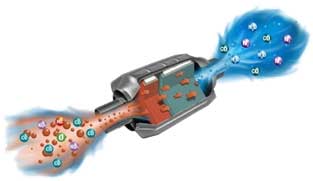 OBDII ENGINEERED Catalytic Converter
THREE-WAY No/Air OBDII By Design US-EPA Compliant catalytic converters are efficient at the oxidation of HC's and CO, and very efficient at the reduction of NOx, storing O2, and the steady release of O2 into the exhaust stream.
Designed to deal with the specific demands of today's OBDII engine operating systems and emission gas levels.
ENGINEERED Benefits:
Larger Total Substrate Size
Increased Precious Metals Loading
Improved O2 Storage & Release
Lower Emissions Output
Long Term Reliability

Catalyst Technology
The catalytic converter is a marvel of chemical and engineering technology. It cleans gases passing through vehicles' exhaust systems. Catalytic converters typically consist of a ceramic or metal honeycombed monolith substrate that carries precious metal catalysts. The coated substrate is wrapped in an protective thermal mat that expands when heated, securing and insulating the substrate, which is contained in a tough stainless steel shell and becomes a component in an engine exhaust system. As exhaust gases pass over the catalysts, chemical reactions occur that convert pollutants into harmless gases and water. Hydrocarbons combine with oxygen to become carbon dioxide. Nitrous oxides react with carbon monoxide to produce nitrogen and carbon dioxide, and with hydrogen to produce nitrogen and water vapor. Our chemists and metallurgical engineers have this expertise.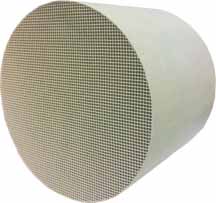 AP Catalytic Converter Substrate AP is a proven leader in the development and manufacturing of technologically advanced catalysts and catalyst systems. Our products meet and exceed the demands of the global emissions marketplace. As an innovator in an industry steeped with regulations and exacting requirements, our catalysts are engineered to the most stringent emissions standards set forth by engine-makers worldwide. Whatever the market – automotive or industrial, recreational or power equipment, AP is committed to satisfying the needs of each individual customer.
Creating an effective solution for each customer's specific requirements is our goal. The very finest in technological advancements are used in the development and manufacturing of catalytic systems that meet or exceed global requirements for the control of combustion emissions from any fuel and all industries.

Download an informational brochure from AP Exhaust Technologies: